BABIA AND LUNA VALLEYS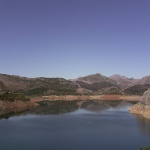 Region:
La Montaña
Location:
In the North of the province, limiting the north by the province of Asturias. This area includes these councils: San Emiliano, Sena de Luna, Los Barrios de Luna and Cabrillanes.
Protection:
Natural Protected Area. Babia has been declared as a Biosphere Reserve by UNESCO IN 2004
LANDSCAPE
Under Peña Ubiña ( 2.417 metres/ 7929 feet) there is a mountainous landscape, San Emiliano Valley, between Babia and Luna Valleys. In this emplacement, people can see the vestiges of the glacial erosion and the karstic processes, which is a product from the dissolution of the limestone. This landscape offers glacial cirques, moraines, furnaces, tray valleys, peaks, gentle valleys, dolines, defiles, ponds of glacial origin.
FLORA
Because of its location, climate, the relief and the materials that appear have originated a varied plant cover which combines Atlantic and Mediterranean vegetation. However, it is the jupiner forest the major feature in the region because the limit of its distribution in Europe is located here. There must be highlighted the beech and oak forests.
FAUNA
Wolf, otter, deer, venison, chamois, boar, bear, hares, martens, capercaillie, golden eagle, griffon vulture, Egyptian vulture and, thanks to the Barrios de Luna Dam, there are waterbirds.
WHAT TO DO AND SEE
We cannot miss the jupiner forest in Mirantes de Luna; the villages in San Emiliano valleys; the historic place of Riolago de Babia with it Renaissance Palace of The Quiñones and its walls; La Calzada de Torrestío ( The Military Road of Torrestío), which get La Mesa mountain pass and let us cross the Cantabrian Mountain; La Cañada Real, which links Torrestío and Laguna de las Verdes; and the Hoz de las Palomas, in Laciana´s border. Travellers can also enjoy trekking, cycling, climbing, skiing, hunting and fishing.
TO KNOW MORE
IMAGES