TRUCHILLAS LAKE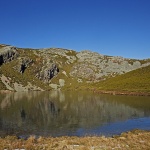 Region:
La Cabrera
Location:
South of the province of León, in La Cabrera Sierra. It is bounded by the Province of Zamora.
Protection:
National Monument since 1991
LANDSCAPE
The landscape has a glacial origin, composed by cirques, pools, trough-track valleys and moraines. This is a unique landscape, with a geology based on slate, quartzite and gneiss, all of them from a metamorphic origin.
The lake is a glacial head, its walls are from glacial cirque and the big rocks which appear in the valley are its moraines.
FLORA
Birch, alder trees, holly, pine, English elms, poplar, whitebeam, yew, sauce, fern, orchids, gentian, rebollo oak, chestnut, apple tree, heather, juniper, broom…
FAUNA
Wolf, fox, roe deer, boar, rabbit, muskrat of the Pyrenees, wild cat, otter, marten, weasel, owl, snake eagle, partridge eagle, golden eagle, falcon, goshawk, common buzzard, partridge, quail, San Antonio frog, natterjack toad, sparrow, trout, lizard, snakes…
WHAT TO DO AND SEE
Lago Truchillas Route: It takes us to Truchillas Lake where the Lago River springs. During the route, we can delight in the mountainous landscape and meadows.
This region has been isolated through history, and this fact has contributed to the preservation of traditions and architecture. We cannot miss the chance of walking through its streets enjoying this architecture and its people's way of life.
TO KNOW MORE
IMAGES